Almost three years after the creation of the BVOP Certified Project Manager title, Business-Value-Oriented Principles Ltd has updated the way its headline is spelled out in its official certificates and documents.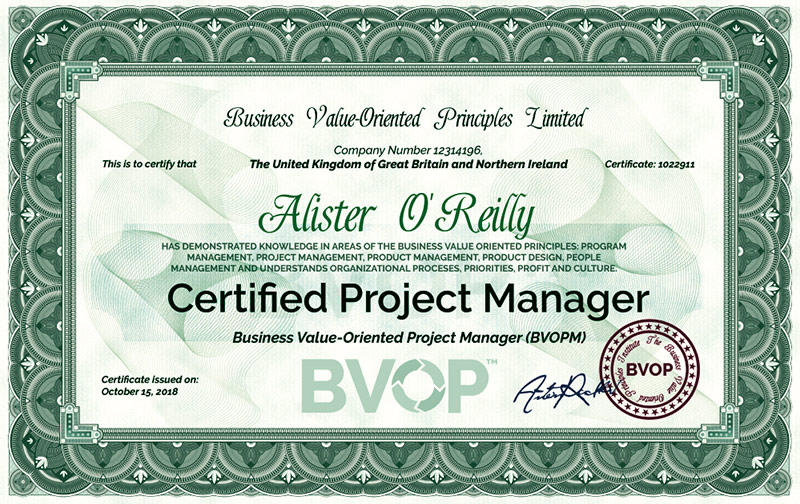 This was, in fact, a long-awaited update for the organization as the trademark was in the process of registration, which included validation, inspections, and actual publication.
Last week, Business-Value-Oriented Principles Ltd received the official opinion from the British government and the trademark department sent the company its final conclusion and official registration documents.
The changes following the official public announcement of the trademark now require changes in the spelling of the abbreviation BVOP (Business-Value-Oriented Principles) as follows.
The current spelling with the symbol ™ is already considered obsolete and outdated. The new brand name now uses the trademark symbol indicating the process of registering and publishing the trademark. In this way, the use of the ® symbol is required.
The full title of the title is changed from BVOP™ Certified Project Manager to BVOP® Certified Project Manager.
The organization has no claims to use the brand from third parties using the old symbol and in no way out-of-date data will be a reason for any negative situations. However, the organization prefers all partners and customers to use the new BVOP trademark designation as of today.
So far, the official certificates on the website and those who receive certified professionals who have successfully passed their online exams still use the old designation, but later this year it is expected to update the design and texts and certificates and all other accompanying documents.
The organization's partners do not need to take any action to change any contracts and contact the team on these issues.
Business-Value-Oriented Principles Ltd. has officially issued several more management certification programs. The trademark update is also valid for all other diplomas that the clients of the organization receive. These are Senior Scrum Master, Program Director, Agile Director, Product Manager, Product Owner, and Human Resources Manager. All titles contain the BVOP brand and the new changes concern all titles, including those with changed names such as Certified Scrum Master, which was changed earlier this year to BVOP™ Senior Scrum Master.
Official BVOP references
As Internet users may come across many articles with different information about BVOP certificates and programs, we list several confirmed sources with regulated and up-to-date information:
What is BVOP
For the unfamiliar audience, we want to point out that BVOP is a collection of business principles and good practices used in modern project management. In 2018, the organization published its official manual "BVOP Ultimate Guide" which is the only formal book that applicants must learn well to successfully pass their certification exams.
BVOP is a new management methodology based on many business principles derived from Kaizen, Agile, Scrum, and traditional project management. All available and obsolete knowledge (according to the organization) has already been renewed, modernized, and adapted to modern dynamic business.
The validity of old documents remains indefinite and certified professionals holding a certificate issued by the organization do not need to send requests for re-issuance of documents. Certified professionals also do not have to pay any additional fees.
The validity of the new documents will also be indefinite and the certified specialists holding a certificate issued by the organization should not worry in any way about their documents and their validity.
Media Contact
Company Name: Business Value-Oriented Principles Ltd.
Contact Person: Liam James
Email: [email protected]
Country: United States
Website: https://bvop.org
Review of the BVOP Certified Project Manager
The following online resources on the topic were found today by our team (date: September 9, 2020).
We share references and details on the topic.
For those who still do not know, "BVOP Certified Project Manager" refers to a title that you acquire after successfully passing an online certification exam… https://brightonbot.com/
BVOP Certified Project Manager is a specialization certification that you can get by passing an online exam… https://wikipedia-lab.org
Latest BVOP Certification Reviews
I am happy to share that I am a BVOP™ Certified Product Owner and a BVOP™ Certified Senior Scrum Master.

BVOP™ transforms the way organizations manage both their projects and people. BVOP™ is a superset of management principles for organizations, projects, products, and people. The BVOP can be applied to any Agile or Lean methodologies directly or modified depending on your needs.

Over the summer I was thinking about ways that I can up-skill myself and that's when I decided to get a Product Owner Certification. Product Development has always intrigued me, right from the inception of a product, its increments right up to the launch of the product.

After graduating from University of Arizona I hope to start working as a Product Owner to implement the skills that I have learned from my curriculum here at University of Arizona, Eller College of Management, my summer internship experience working at Banner Health, my past experiences from Cognizant and finally what BVOP™ has taught me about Product Management.
Arjun Gopalakrishnan, BVOPO™, BVOSM™, BVOPM™
In today's world, Agile Methodologies have become a core component of how businesses function. In Spring 2020, I had the opportunity to learn about product development as part of my curriculum at University of Arizona, Eller College of Management.

To take an extra step in this direction, I decided to obtain a Product Owner Certification from BVOP™. Business Value Oriented Principles have enabled me to learn a lot of new insights and functionalities about Product Management, Scrum, Product Backlog, Product Risk Analysis among a plethora of other key components of Agile Methodology.

I am very excited about this new skills that I have learned and I hope to implement them in my future projects and create a positive impact.
Mayukh Bhattacharyya, BVOPO™, BVOPM™